HELLO!
There are quite a few beauty things that I wish I owned at the moment, so I thought I would share 4 of  them with you!
The first one, I am sure a lot of people wished they owned if they don't already. The Naked 3 Palette! With smooth matte, pearl and metallic finishes from pale shimmery pinks to warm browns. The shades are perfect for all seasons. It is around £37 depending on where you buy it, it is expensive BUT is guaranteed to last for 2 years. You can buy it from Debenhams here.
I wish I had some of Tanya Burr Lips and Nails line. Hopefully you all know of Tanya Burr, the blogger and YouTuber who has just launched her very own lips and nails line! The lip glosses come in 12 beautiful shades that give creme and shimmer finishes. My favourite shades are 'Afternoon Tea', 'Picnic in the Park', 'First Date' and 'Aurora'. The nail polishes come in 10 gorgeous, professional, long-lasting and chip resistant shades. My favourite shades are 'Bright and Early', 'Little Duck', 'Peaches and Cream' and 'Minni Marshmallows. Tanya named all of her products after her favourite things and favourite things to do. They are available from some Superdrug stores and www.feelunique.com. The lipglosses are £6.99 and the nail polishes are £5.99.
The 3rd thing I am coveting is not really a beauty product. It's the 5 Drawer Acrylic Makeup Box from MUJI. I am completely running out of space on my dressing table and am in desperate need of somewhere to store my makeup! I love the MUJI designs because they are all transparent plastic and I like the look of being able to see what's inside. It's £24.95 from their website here.
The 4th product I am coveting is the Soap and Glory Beauty Sleep Accelerator. I have read so many reviews on this stuff and everyone is saying it works miracles for your face overnight! It is Guaranteed to be an overnight sensation, according to their website. It claims that you will wake up with moisturised, dewy and luminous skin. It is £13 and you can buy it from their website here or from boots.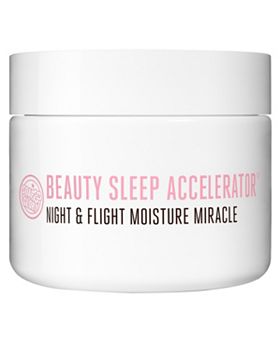 I hope you liked this post, it was a bit different.
What are you coveting?
CECILY .xXx